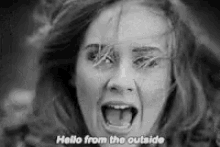 Fghsjdskskghfhjdsk I LOVE that song.
Anyways, today is the last post of this series *sniffle, sniffle* Anyone have requests or ideas for some physics-y stuff?? I'm at a loss, really… Put suggestions and requests in the comments down below!
Regarding the title- it's got two meanings. One, because this series is over and it just seems like, grown up and mature. Do I make sense? And second, we're handling Group 18 today- so y'know, 18, adults, blah blah blah.
And now, without further ado, we shall do chemistry. I'm gonna miss this series.
*****
#1: Introductions!
The Group 18 elements are called Noble Gases. "Why noble?", you say. "What's so princely about them?"
Allow me!
The Noble Gases are really, really unreactive. They literally do not react with anything. Their chill is infinite. Hence, they're "noble" because they don't show any outward response even when "provoked". They're dignified and composed, the way the nobility tend to be. [If we're talking along those lines, shouldn't the alkali-earth metals be called the Ignoble Metals? Food for thought…]
HOWEVER, just like the nobility, they can be conveniently yeeted off their high horse. In other words, the noble gases do react with a select few elements- it's just very, very rare. If this were an English blog [I do have one], I would say- "The Noble Gases are being compared to nobility and royalty without using the words like or as. Hence, this is a metaphor!"
Whatever. Let's move on.
#2- Treeeeeeends:
Well, it's been properly established that the Noble Gases are g e n e r a l l y unreactive. But, even then- what's the most reactive element from this group?? [I felt incredibly stupid typing that out. Just so you know…] The answer to that is xenon! It has the most oxidation states, and is the only electronegative element in this entire group. This means that in any reaction, none of these elements [except xenon] will form negatively charged ions!
Enough about xenon- what about the others? What are their properties? Well, boiling points increases down the group- and along with it, densities.
Here's a table:
| | | | | | | |
| --- | --- | --- | --- | --- | --- | --- |
| Element | He | Ne | Ar | Kr | Xe | Rn |
| Density in (g/L) at room temperature | 0.16 | 0.83 | 1.63 | 3.43 | 5.37 | 9.07 |
Varying densities!! The positive correlation is clear.
Another property is that these gases glow different colors when electricity is passed through them!! That's why neon is filled into light-up signs. It can be mixed with other substances to make different colors! Not to mention, xenon is pumped into [SOME] headlamps to provide a good, clear bluish light.
#3- Let's Discuss: Oganesson!
Okay, before we begin- MAJOR thanks to Greg Dennison@Don't Let The Days Go By. He informed me about this lovely element a few days ago on one of my posts, and I thought I'd talk about it a little bit more!!
Anyways- oganesson has the highest atomic mass we've ever encountered… In other words, oganesson is h e a v y. It falls under the Group 18 elements- and it isn't natural. Like moscovium, it was synthesised in Dubna, Russia and named after the scientist Yuri Oganessian who contributed hugely to its creation!! Scientists predict that oganesson will be significantly reactive and solid- unlike the others in its group. It's very difficult to be sure, because oganesson is HIGHLY reactive and only a few atoms of it have been synthesized and detected.
Well, that's it!! That's the end of this loooong chem series… I hope you liked it ;D
Let's talk in the comments!!
stay sticky,
[pbs}